World Famous Rose Gardens
Here's my list of world famous rose gardens. If you get a chance to visit ANY of these famous rose gardens, you simply must.
There's probably quite a number of the best rose gardens I have missed from this list. Please let me know if there is a world class rose garden near you, I'd love to add it to this list.
UK Rose Gardens
Queen Mary's Rose Garden (London, UK)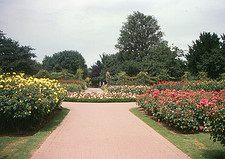 A stunning formal garden to be found in Regent's Park. There are over 400 varieties of roses here, and more than 30,000 roses.
Plus delphiniums and begonias galore too. A fantastic oasis of calm in the middle of London.
Royal National Rose Society Display Gardens (Hertfordshire, UK)
An impressive collection of over 8,000 different roses, displayed in a variety of ways. There are ideas to inspire those with only a small planting area at home, as well as a collection to show the history of the rose. Plus the Queen Mother Garden.
David Austin Rose Gardens (Albrighton, UK)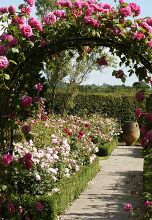 Two acres of roses planted in a fairly informal style, but displaying over 700 varieties. Includes the National Collection of English Roses.
Belfast International Rose Garden (Belfast, Northern Ireland)
This garden is part of the Sir Thomas and Lady Dixon Park, and is a stunning display of more than 45,000 roses of all types and varieties. Features the best of local breeders.
---
Canada Rose Gardens
Rose Garden Of The Montreal Botanical Garden (Quebec, Canada)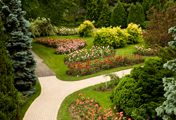 The botanical garden itself is a true pleasure to be enjoyed, and is only a couple of minutes away from the centre of Montreal. And the rose garden has been given 6 acres to home the 10,000 strong collection. Don't visit in Autumn though or you'll see nothing but frost cloth.
---
USA Rose Gardens
Hershey Rose Garden (Pennsylvania, USA)
An amazing 23 acre site which includes the Historic Hershey Rose Garden that started it all off. With 275 varieties to experience.
Tyler Municipal Rose Garden (Texas, USA)
A generous 14 acre rose garden that was established in 1952, with antique roses that go back as far as 1867. October is the Texas Rose Festival.
International Rose Test Garden (Portland, Oregon, USA)
One of the oldest in the USA. Can be tricky to find but worth tracking down (don't get confused with the Rose Garden Stadium if asking for directions!). One of the official test sites for the AARS.
Columbus Park Of Roses (Ohio, USA)
This one won the Best Rose Garden competition in 2010. It's 13 acre site can be found in Whetstone Park. Over 400 varieties spread across 11,500 roses.
---
Rose Gardens In France
Jardin de Bagatelle (Paris, France)
Bagatelle is famous for it's rose garden, as well as it's international rose contest which has been running since 1907. The gardens themselves date back to 1775, but the roses came much later in 1904. The focus is on hybrid teas here, with some old roses too, and beautifully crafted climbing roses.
La Roseraie De L'Hay Les Roses (Paris, France)
Parc De La Tete D' Or (Lyons, France)
---
Other European Rose Gardens
Zweibrucken Rosarium (Germany)
The Rosarium of the German Rose Society (Germany)
Parc De La Grange in Geneva (Switzerland)
Parque Del Oste (Madrid, Spain)
Westbroek Park (Hague, Holland)
The Valby Park Rose Garden (Copenhagen, Denmark)
Roseto Botanico di Cavriglia (Tuscany, Italy)
---
Rose Gardens In Australia / New Zealand
The Rose Gardens (Canberra, Australia)
The Botanic Gardens (Sydney, Australia)
Araluen Botanic Park (, Australia)
Dunedin Botanic Gardens (Dunedin, New Zealand)
---
Rose Tree Care - rose trees are beautiful but can be difficult to grow. Here's some tips on care.
Miniature Rose Care - miniature roses are actually pretty easy to care for, but here's some quick tips.
Kelleher Rose Garden (Boston) - beautiful video of the Kelleher Rose Garden in Boston.
Hybrid Tea Exhibition Rose Garden Video - nice little video of an exhibition rose garden of hybrid teas.
Pruning Climbing Roses Video - Here's Paul with some great pruning tips, starting with how to know which canes to actually prune.