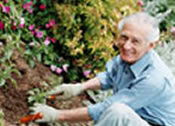 About Me
Name: Robert C. Harris
Age: 63
Specialist Subject: Gardening
So Why Soil..?
Soil is the fundamental root (excuse the pun!) of all gardening. It's the foundations. It's the bedrock of all your gardening efforts. Most gardens disappoint their owners because they fall so short of the pictures in books, magazines and on seed packets. And often it is not from lack of effort from the disappointed gardener - just misdirected effort. Get the soil right first and your garden really will explode with color and beauty. Get the soil right first and the rest becomes so much the easier. Get the soil right first and you will save so much time and money.
That's why I created this web site. I've worked with soil for many, many years. But yes, I too started out learning the hard way - plenty of money, lots of planting, disappointing results. But through my personal and professional gardening careers I've learnt to understand soil. Yet even now I can still be drop jawed at the transformation some simple soil correction has achieved in a garden.
So please enjoy the site and absorb all it offers. And may your garden give you many years of joy and pleasure.