Silver Leaf Nightshade Control
by Steve
(Bakersfield, Ca. USA)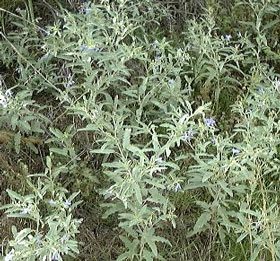 Silverleaf Nightshade
Has anyone found a suitable herbacide for this silver leaf nightshade?

I have tried glyphosphate with a surfactant but with little results. I have heard of a product called percloran(?) but don't know if it's effective or if I have the correct name.

So far I've been removing this stuff by hand, but it keeps coming back.

A few of my sheep have become very ill after eating these weeds, and it has cost me a bundle in veterinary costs.

Does anybody have any advice on getting rid of this type of nightshade?
Comments for
Silver Leaf Nightshade Control
Average Rating





Click here to add your own comments