Mexican Bird Of Paradise Is Making Me Nuts!
by Patti Dupont
(Julian, CA.)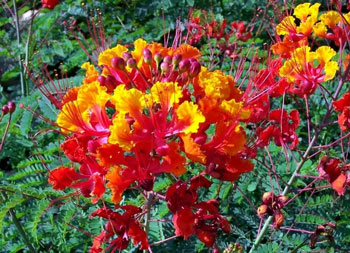 Mexican Bird Of Paradise Bush
Some people plant these things on purpose!

They have VERY BEAUTIFUL bright yellow and orange flowers. Each Mexican bird of paradise bush can produce 100 or even more. And in any soil and for any climate.

They are way beyond invasive!

These things are in my septic system and in the leach field.

I have tried cutting them, pulling them, Round Up, salt, bleach. Nothing works!

They just grow right back again. Even burning them in a last ditch effort completely failed.

As soon as a new one starts growing, I yank it out, but the roots are already 2 feet long.

I would love to know how to get rid of it? Can anyone help?