Getting Rid Of Bindweed
by Tyler Hutchinson
(Brigham UT 84302)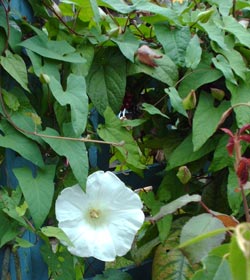 Bindweed
Bindweed, a little white flowering vine that creeps, crawls and climbs.

It will come up every where and getting rid of bindweed is nearly impossible.

The roots for bindweed run super deep, no matter how much you tug and pull at 'em, they just keep appearing. In new spots and old spots.

It's a member of the morning glory family. Specifially, Calystegia sepium!

The problem with this weed is that it not only is an annoyance and nuisance to good plants. But it also attracts moths, as it is an attractive food for one certain moth.