To The Gardener Who Secretly Wants A Garden That Makes The Neighbors Stop And Wonder...
Do you want the kind of garden that stops people in their tracks? A garden that makes neighbors green with envy?
Get Better Results In Less Time
Gardening should always be a joy - nobody wants to be a slave to their garden, right? Which means getting the best possible results from the time you want to spend gardening. And that's where a library of expert knowledge is essential.
Instant Access To Hundreds Of Years Of Proven Gardening Expertise
The best gardeners take years to build up their vast knowledge of plants, tricks, techniques and secrets. But I've scoured the archives, and the wealth of gardening writers to bring you the distilled knowledge and experience of some of the very best gardeners in the world.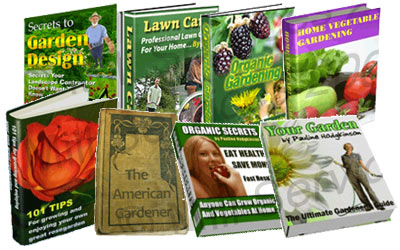 The Complete Gardening Expert: My Biggest Bargain Book Bundle Ever
This unique collection contains many hundreds of years of knowledge and expertise, compacted down into 8 very accessible and highly effective books. The Complete Gardening Expert will provide a valuable and easily accessible reference library for many years to come.
Here's What You Get...
101 Tips For Growing And Enjoying Your Own Great Roses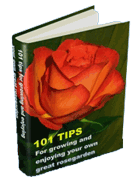 Roses are arguably the most beloved flowers in the world. They symbolize love, friendship, and sympathy with an elegant beauty.
But the rumors are not all true - any gardening enthusiast can successfully grow gorgeous, healthy roses with a little tender loving care... and some reliable information!
Learn the 8 most important factors when selecting the rose that is right for you. (Pages 4-14)
Discover why morning sunlight can be very valuable when planting. (Page 18)
Learn which watering technique to avoid because of the threat of fungal diseases. (Page 11)
Discover the easiest way to prevent diseases from taking over your roses. (Page 23)
Learn how 7-Up can be used to help prevent bacteria - no I'm not kidding! (Page 34)
Learn to bring your roses back to health from 6 different common insects and diseases. (Pages 24-26)
And so much more!
It all starts with some good information from years and years of trial and error. All the tips, tricks, and techniques you can think of have been passed down time and time again. And now they're all in one guidebook, "101 Tips For Growing And Enjoying Your Own Great Roses"! This manual is your jumpstart to growing successful roses.
Value: $13.95
Your Garden - The Ultimate Gardeners Guide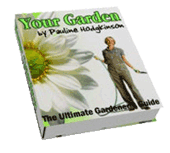 For every job in the garden you'll discover amazing time savers that mean you can spend more time relaxing and entertaining in your garden rather than working in it.
It doesn't matter if you're a complete amateur, a budding enthusiast or a gardening professional I know you'll find lots of new ideas to create the garden of your dreams.
Instantly identify the plants that will thrive in your garden. This tip will save you money and prevent the disappointment of losing prized specimens.
A simple tip that will help you identify the soil types in your garden. It takes less than a minute and you won't need an expensive soil testing kit.
Discover which three commonly available plants can increase soil fertility, suppress weeds, improve the structure of your soil and help nourish any plants you put in the ground afterwards.
How to easily build a super effective compost bin from throwaway materials.
Discover which common household remedy can be used to dramatically increase fruiting and flowering of roses, tomatoes and peppers.
Find Out the key ingredient to good planting soil, ignore this tip and you could severely harm the prospects for healthy plants.
Hundreds of great gardening tips!
There's so much useful knowledge in here -- you'll be referring back to this work over and over again every year.
Value: $14.95
Secrets To Garden Design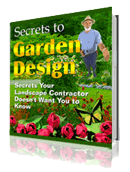 You don't have to be super-creative or gifted to shape a garden that reflects your personality and style, provided you know what to do.
Secrets Of Garden Design is a roadmap for both novices and experienced gardeners in search of new, fresh ideas.
Learn how to avoid the amateur mistakes that no one else will tell you about
Where to get FREE plants four times a year
Which dirt-cheap and dramatic perennial can be planted at 2-week intervals for color from early summer to late fall
The one simple trick that can reduce your weeding by 90 percent
How to use color to camouflage an eyesore
Discover six vital tips for plotting your new garden, including when to relocate existing plants and why perennials should be added before annuals
For the gardener who secretly wants their garden to be the envy of all neighbors.
Value: $11.95
Beginners Guide to Growing Your Own Organic Vegetables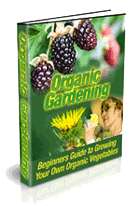 Want to start your own organic vegetable garden right in your back yard?
Why Grow Organically?
Organic Gardening Supplies
Deciding What To Grow
Planting Your Vegetable Garden
Making Your Garden Thrive
Troubleshooting Your Organic Vegetables
Harvesting and Storing Vegetables
This guide will help you provide your family with organic vegetables nearly all year round at a MUCH lower price than you could ever get at a grocery store.
Value: $8.95
Lawn Care - Professional Lawn Care For Your Home, By You!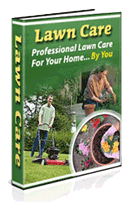 Did you know there are over a hundred varieties of grasses in the world that can be used for landscaping?
This book tells you about the most popular types of grasses out there and which ones are suited for particular climates. It tells you about watering your lawn to promote growth, what to look for in a fertilizer, and even how to pick out a lawn mower. You'll learn ways to get rid of crabgrass, bentgrass, dandelions, moss and chickweed forever - or at least keep them from taking over your whole yard.
How to pick out the right grass seed for your climate
The right way and wrong way to mow your lawn
Getting rid of those pesky weeds
Fertilizers - which one should I use?
And much, much more!
Even the lawn care novice will be able to cultivate a beautiful and lush lawn after reading this book.
Value: $9.95
The American Gardener - Rediscovered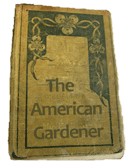 Finally rediscovered after 150 years, The American Gardener demonstrates the work of a great mind from the earliest days of American gardening.
Originally published in 1854, The American Gardener is likely the first classic work of American gardening literature. William Cobbett, one of the most gifted journalists of Victorian England, offers advice still useful today on all aspects of gardening.
Choosing the right location on your property for growing plants
Preparing the soil properly to provide nutrition for healthy plants
Natural fencing techniques for your garden
How to make hotbeds, so that you can start your vegetables earlier in the season
Learn about the soundness of seed, and how to test seed before you plant
Learn proper sowing methods to improve your seeds germination rate
Methods for tilling, trenching and sowing to ensure your gardens success
Learn propagating methods so that you can grow many more plants form just one stock plant
Learn how to successfully grow 81 different vegetables and herbs, 26 tasty fruits and nuts and the most popular flowers and shrubs with the most gorgeous blooms
A modern translation of a true classic.
Value: $12.95
Home Vegetable Gardening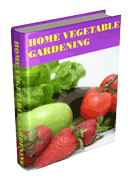 No patch of land is too tiny to create a superb home vegetable garden.
Home Vegetable Gardening will guide you every step of the way with detailed instructions for everything from garden planning and preparing to planting, protecting, and harvesting.
Grow your own delicious, mouthwatering vegetables, fruits and berries
Never settle for that ordinary store-bought produce again
Practical, efficient gardening, with the least possible fuss and minimum time
Comprehensive information, yet simple and concise
Home Vegetable Gardening is the perfect book to help you get started on the right foot.
Value: $10.95
Organic Secrets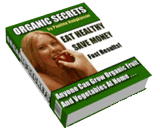 Discover the easy way to save money and eat healthy for life with Organic Secrets.
In-depth advice on growing over 36 specific types of vegetables
When to sow, maintain your crop and when to harvest
Creating the best soil
When and how to plant seeds
Labour saving ideas on eradicating garden pests safely
Choosing the perfect tools to make light of any task
Written for both the amateur gardener and the enthusiast alike
Value: $9.95
Extra Bonuses Just Added
I liked these two guides for their quick tips. They're not in depth books like the others, but I bet a quick scan through each will give you at least a dozen great ideas!
51 Quick Greenhouse Gardening Tips

Why start a greenhouse
Types of greenhouse structures
Where to put your greenhouse
Controlling the temperature in your greenhouse
What type of coverings to use
51 Quick Tips For Growing A Vegetable Garden

How to prepare for planting corn
How far apart to plant tomatoes
How much water bell peppers need
When to plant pumpkins
Instant Access - Read Your Books Today!
When you place your order today, you will immediately be taken to a page where you can download all of your books. That means you will be able to start reading them on your computer right away (even if it's 2AM in the morning!).
And yes, you are allowed to print out a full color copy too if you want to. But there's no need. All the books are incredibly easy to read on your computer. And you also get the added bonus of being able to search inside the books to quickly find the answers you need.
So How Much Do They Cost?
Less than you would think. But what price would you put on a beautiful garden you and your family can truly enjoy all year round.
A professional gardening contractor would charge up to $25 an hour, making short work of $500 before you've even begun!
But this is about you enjoying the time you spend gardening. So you want the satisfaction of buildling your own beautiful and productive garden, but without the expense of paying professionals!
And that's where a library of expert knowledge is essential.
So here's the deal...
Normally if you bought each of these books on their own, you would pay a total of $93.60 - and the fact is it would be worth every penny too!
But bundling them together I can save on the overheads and pass on some fantastic savings to you. So the whole bundle will cost you just $47.

Your No Risk 100% Money Back Guarantee
If for any reason you are not 100% delighted with your purchase we will refund your payment in full for up to 30 days no questions asked. That's more than a guarantee, that's a promise!

YES, Please Give Me The Complete Gardening Expert Bundle Now!
I understand I get all of the books listed below:-
101 Tips For Growing And Enjoying Your Own Great Roses (value $13.95)
Your Garden - The Ultimate Gardeners Guide (value $14.95)
Secrets To Garden Design (value $11.95)
Organic Vegetable Gardening (value $8.95)
Lawn Care - Professional Lawn Care For Your Home, By You! (value $9.95)
The American Gardener - Rediscovered (value $12.95)
Home Vegetable Gardening (value $10.95)
Organic Secrets (value $9.95)
TOTAL VALUE = $93.60
Plus these extra Bonuses:-
51 Quick Greenhouse Gardening Tips
51 Quick Tips For Growing A Vegetable Garden
Total $93.60
Bargain Bundle Price Only $47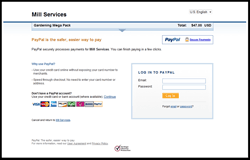 P.S. If you want to get the best results in your garden, get my Complete Gardening Expert Bundle today. It's literally hundreds of years of expert gardeners knowledge and tips distilled down into a series of easy to read books. But order the whole bundle today and you save 50% on the normal price!